Welcome! I'm Bat Collazo. My pronouns vary, but ze/zir/zirs is a safe bet. I'm a queer, mixed race Latin@ in my 30s, living in the Midwest United States. My maternal ancestors hail from Borikén (today known as Puerto Rico), and my paternal ancestors were Polish immigrants.
I'm a published author, poet, visual artist, and practice a wide range of traditional handicrafts, like spinning, wood carving, and book binding. I have an interest in homesteading, bushcraft, simplicity, and communal self-sufficiency. I'm a speaker and instructor, and a witch, pagan, and Heathen. From 2018 until late 2020, I offered spiritual support to the public in a local metaphysical shop. In my current day job, I focus on medical education and health equity. In all facets of my life, I'm passionate about the radical, decolonizing work of marginalized communities in making oppressive systems obsolete.
I am a godspouse, oathed and wedded to Loki, my fulltrui. I'm polyamorous, and also have a beloved human partner. Importantly, I also celebrate the love I experience with my chosen family and friends.
Spiritual and magical practice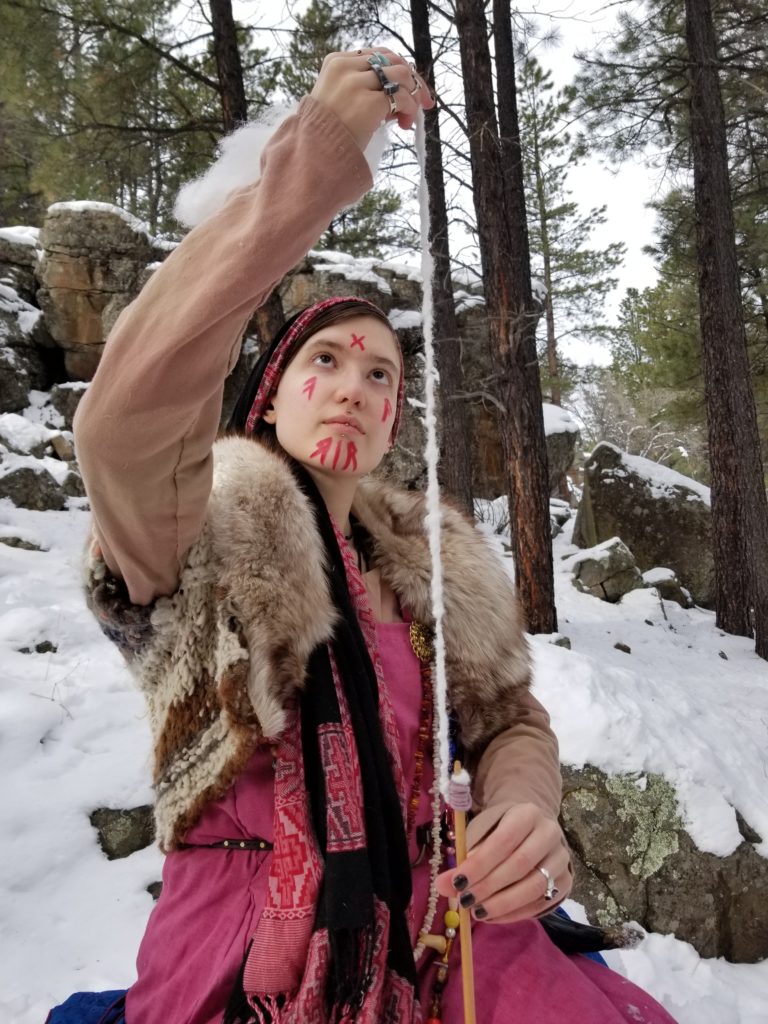 I've been actively practicing witchcraft and polytheism for over 10 years. I've been an active member of the Troth, an inclusive Heathen organization, since 2017. I also joined the Church of Body Modification in 2019.
I identify as a Heathen and Lokean. I worship the Norse pantheon: Aesir, Jotnar, and Vanir alike, and gods who cross these lines and are not so easily categorized. Heathenry is a special passion of mine, and I'm currently a trainee in the Troth's clergy program. As a Loki devotee, I focus a significant chunk of devotional time on Him/Her/Zir and His/Her/Zir Family.
I enjoy working with other spirits of many kinds, including (but not limited to) the Slavic god Veles, beloved ancestors, the dead, house and land spirits, folkloric spirits, and pop culture spirits.
Though I respect differing beliefs, I tend to see most gods and spirits as actual beings (rather than metaphors), and my personal practice includes a healthy dose of mysticism. Many of my spiritual practices emphasize trance work (associated with the concept of seidr in the Norse tradition), sometimes called astral travel, visions, visualizations, or meditations.
I define magic as the use of intent (and often, for me, objects, symbols, and/or prayer) to influence energies or probability in the world. I believe that anyone can be a witch or practice magic, and that it requires no special abilities. Magic, particularly folk magic, is not apolitical: I see it as a way of working with any available tools and resources to survive, thrive, heal, and protect, especially when faced with struggles like colonization, racism, and poverty. I can and will use any tools at my disposal, but some of my favorites include herbs, candles, sigils, runes, sound and songs (including galdr), written poems or prayers, and found objects (natural and man-made).
I practice divination using any combination of tarot, oracle, intuition, dreams, high-tech tools, and ritually handcrafted runes.
Questions? Please don't hesitate to contact me.